Toujuushi Bestialious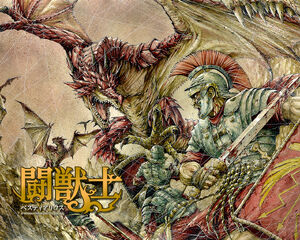 Information
Title:
Toujuushi (Bestialious) (闘獣士(ベスティアリウス))
Author:
KAKIZAKI Masasumi
Original Run:
Ep1: February 9, 2011 - February 16, 2011
Ep2: August 7, 2013 - September 4, 2013
Ep3: October 22, 2014 - March 4, 2015
Ep4: December 14, 2015 - April 27, 2017
Ep5: June 23, 2017 - February 23, 2018
Ep6: April 25, 2018 - December 25, 2018
Published by:
Weekly Shonen Sunday (Shogakukan)
Shonen Sunday S (Shogakukan)
Volumes:
7 (54 Chapters)
Genre:
Action / Historical / Seinen
Toujuushi (Bestialious) (闘獣士(ベスティアリウス), Tōjūshi (Besutiariusu)) is a Japanese manga series written and illustrated by KAKIZAKI Masasumi.
Toujuushi Bestialious originally started as 2-part oneshot published in the Issue 2011-11 & 2011-12 of Weekly Shonen Sunday in February 2011. Later in July 2013, around 2 months after Kakizaki finished his last work, an announced revealed that Kakizaki will turn Toujuushi Bestialious into a 4 chapters mini series in Weekly Shonen Sunday starting from Issue 2013-36-37 in August 7, named as 2nd Episode of Toujuushi Bestialious. A 3rd Episode started in October 2014 as one of the 55 new manga that launched in Shonen Sunday Family as part of it's 55th Anniversary. 3rd Episode continued until March 2015, spanning 15 chapters, combined in 2 volumes.
4th Episode started in the monthly Shonen Sunday S in 2016-01 Issue, released on December 14 and continued until 2017-06 issue, released on April 27, 2017, spanning 16 chapters, combined in 2 volumes. The 5th Episode started in 2017-08 issue, released on June 23, 2017 and continued until 2018-04 issue, released on February 23, 2018, spanning 8 chapters. A final 6th Episode started in the 2018-07 issue, released on April 25, 2018 and continued until 2019-02 issue, released on December 25, 2018, spanning 9 chapters.
A.D 70 The mightiest empire Rome started conquering the world. The whole Europe was havocked by Roman's foot. In Ablion, in order to protect their homeland, the Bravest Wyvern fought a bloody battle against the invader...
Story Arcs
Edit
Main article:Story Arcs
Manga Guide
Edit
#
Release date
Volume Names
1

December 18, 2013

Volume 1

Pages: 200

Cover Characters:

Summary:

List of Chapters:

2

December 18, 2014

Volume 2

Pages: 200

Cover Characters:

Summary:

List of Chapters:

3

May 18, 2015

Volume 3

Pages: 188

Cover Characters:

Summary:

List of Chapters:

4

September 16, 2016

Volume 4

Pages: 192

Cover Characters:

Summary:

List of Chapters:

5

June 16, 2017

Volume 5

Pages: 192

Cover Characters:

Summary:

List of Chapters:

6

April 18, 2018

Volume 6

Pages: 192

Cover Characters:

Summary:

List of Chapters: